The sun is shining, the birds are chirping, and spring has finally sprung in the Midwest!
This year Easter is much later, and I personally, am pleased. It seems that every other year I buy the kids' short-sleeved Easter outfits only to have the gang all bundled up in coats and sweaters for Easter mass and the annual egg hunt.
This year my parents are coming to our house and I am hosting Easter brunch. I am including my egg casserole recipe below. This recipe was given to me a couple of years back by a dear friend who formerly owned a catering business and always has THE BEST recipes! I like this particular recipe because I can make it a day ahead, it feeds an army, and the leftovers are equally as delicious the next day.
Karyn's Egg Casserole
Ingredient List:
1 lb ground pork
1 lb shredded colby jack
6-8 eggs
1 Tablespoon olive oil
1 onion (diced)
1 red bell pepper (diced)
1 package Pillsbury biscuits
Instructions:
Pre-heat your oven to 350 degrees and spray your casserole dish with cooking spray.
Saute your onion and red pepper in olive oil for around 1 minute on medium to high heat.
Add pork.
Saute until meat is cooked through, drain.
Spread biscuits evenly over your casserole dish.
Cover biscuits with pork mixture.
Beat 6-8 eggs and cover meat and biscuits.
Sprinkle cheese over everything.
Bake @ 350 degrees for 20 minutes.
Serve warm with mimosas, fresh fruit, and sweet rolls.
CeCe Brandy Lace Shift With Bow…
Since the weather is calling for warmer temperatures I am wearing a short-sleeved shift dress by CeCe Brandy that I bought at Nordstrom. Click image or HERE to purchase.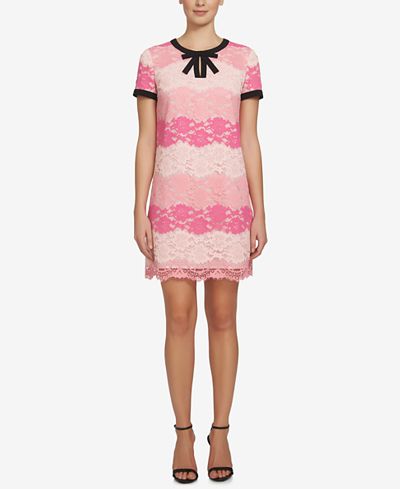 This dress is so easy to throw on, it is wrinkle-free (BONUS…all moms know we tend to spend a lot of time in the kitchen on holidays), and if I need to throw a black blazer over my shoulders it does not ruin the look.
I am wearing an uber moisturizing lip gloss by Yves Saint Laurrent in the color Volupte, found HERE.  The color screams, Happy Easter.
Handbag by Fendi.  
What are your holiday plans?
Cheers!
Sara